Hobart: Tavistock Rd Roadworks Austins Ferry Thursday 3 September – Friday 2 October
Regions
Hobart Northern Suburbs
Dates
From to
---
Commencing Thursday 3 September – Friday 2 October from 8:00am – 4:00pm weekdays only, roadworks on Tavistock Road in Austins Ferry will impact the route 510. Buses will divert and some stops will be closed.
Stop 43 inbound and outbound on Tavistock Road will be closed.
Passengers are advised to please use stop 43 Main Road inbound and outbound (outside St Virgil's College) as an alternative stop.
Please see the map below for more details.
---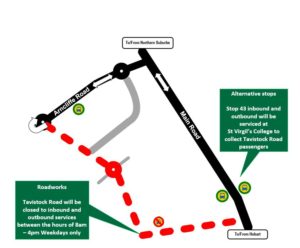 ---
Metro apologises for any inconvenience this disruption may cause.
For service updates
visit our website metrotas.com.au
follow Metro on Twitter @metro_tasmania
or find us on Facebook MetroTasmania