Hobart: Bridgewater – Green Point Rd roadworks 6 September – 9 October
Regions
Hobart Northern Suburbs
Routes impacted
520 X20 521 X21 522 530 X30 696
Dates
From to
---
Commencing Sunday 6 September and continuing until approximately Friday 9 October roadworks on Green Point Road in Bridgewater will effect services. Buses will divert and as a result some stops will be closed.
Inbound and outbound stops on 57 and 58 Greenpoint Road will be closed.
A temporary outbound stop will be located on Chalmers Link, and passengers can also use the stop on 59 Scott Road as an alternative.
Passengers are advised to use the stop on 67 Scott Road as an alternative inbound stop.
Please see the map below for more details.
---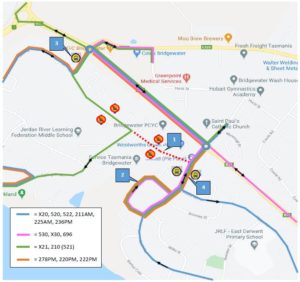 ---
Metro apologises for any inconvenience this disruption may cause.
For service updates
visit our website metrotas.com.au
follow Metro on Twitter @metro_tasmania
or find us on Facebook MetroTasmania