HOBART: Council kerbing works in Hobart City Interchange from 3rd June 2018
Routes impacted
No routes impacted
Dates
From to
---
City of Hobart (CoH) is the owner of the Hobart City interchange and its infrastructure. It plans to increase the area available to pedestrians by replacing the existing saw tooth bays at Stops E, F and J with straight edge kerbing.
Metro has been advised that CoH intend to commence the first stage of these works on Saturday 2 June. We understand works will be undertaken in two stages, which will each take around three weeks.
During works, Metro buses will continue to use the interchange and bus stops will not be relocated.
On Saturday 2 June, a crane will be installed on the western side of the interchange from 5am to 12pm, with no impact on Metro's operations.
On Sunday 3 June, the work site, including fencing and a temporary walkway, will be established at stop J. As a result, buses that normally use stop J will use stop F instead on Sunday 3 June only.
From Monday 4 June, you can access services at stop J via defined entry points in the temporary walkway in front of the existing kerb and stop location (see map below).
After works at stop J are complete, the worksite will move to stops E and F. More information will be shared closer to this date.
---
Map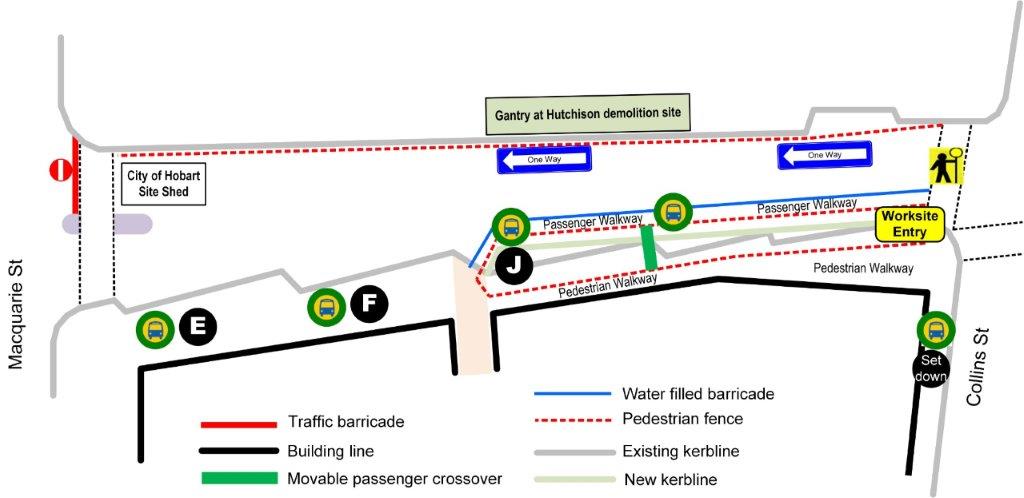 ---
For more information about the works, visit the City of Hobart website.
For information about Metro services, our Customer Service team is available at 13 22 01 or correspondence@metrotas.com.au