Hobart: Huntingfield Park & Ride new temporary loop
Regions
Hobart Southern Hobart
Routes impacted
412-413 415-417 422
Dates
From to
---
Due to contractors progressing with works at Huntingfield Park & Ride there will be changes to the way the buses arrive and exit starting from Tuesday 15 March.
A temporary bus stop will be placed on the approach to the top of the loop for intended passengers to board.
These works are expected to last four (4) weeks. Passengers are urged to follow updates with regard to these works.
Please view the image below for details.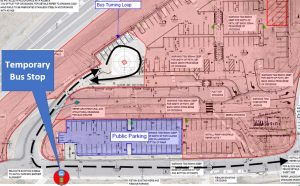 ---
Metro apologises for any inconvenience this disruption may cause.
For service updates
visit our website metrotas.com.au
follow Metro on Twitter @metro_tasmania
or find us on Facebook MetroTasmania