Hobart: Huntingfield Park & Ride new temporary loop
Regions
Hobart Southern Hobart
Routes impacted
412-413 415-417 422
Dates
From to
---
Due to contractors progressing with works at Huntingfield Park & Ride there will be changes to the way the buses arrive and exit starting from Tuesday 15 March.
A temporary bus stop is in place while construction takes place. Please follow signage on-site to safely direct you to and from the temporary stop.
Passengers are urged to follow updates with regard to these works.
Please view the image below for details.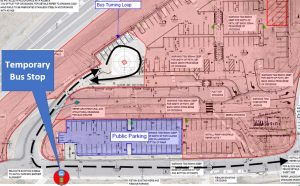 ---
Metro apologises for any inconvenience this disruption may cause.
For service updates
visit our website metrotas.com.au
follow Metro on Twitter @metro_tasmania
or find us on Facebook MetroTasmania