Launceston: Warring Street Closure 11 April – Mid May 2022
Regions
Eastern Launceston Northern
Dates
From to
---
Scheduled road works will be commencing on Monday 11 April in Warring Street, Ravenswood between Pioneer Parade and Rosny Street.
These works will start at 7:30am and finish at 5:00pm and are planned to last 4-6 weeks.
Please view the image below for details.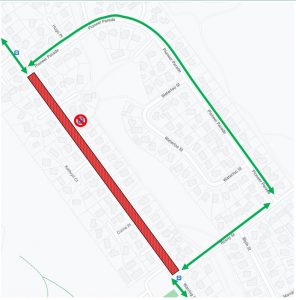 ---
Stops Closed:
Alternative Stop:
Stop #68 Warring Street (approx 150m North)
---
We apologise for any inconvenience this disruption may cause.
For service updates
visit our website metrotas.com.au
follow Metro on Twitter @metro_tasmania
or find us on Facebook MetroTasmania