A NEW TIMETABLE commenced on 8 JULY 2018. View or download below. 
Routes in this section
502, (500 - 522)
---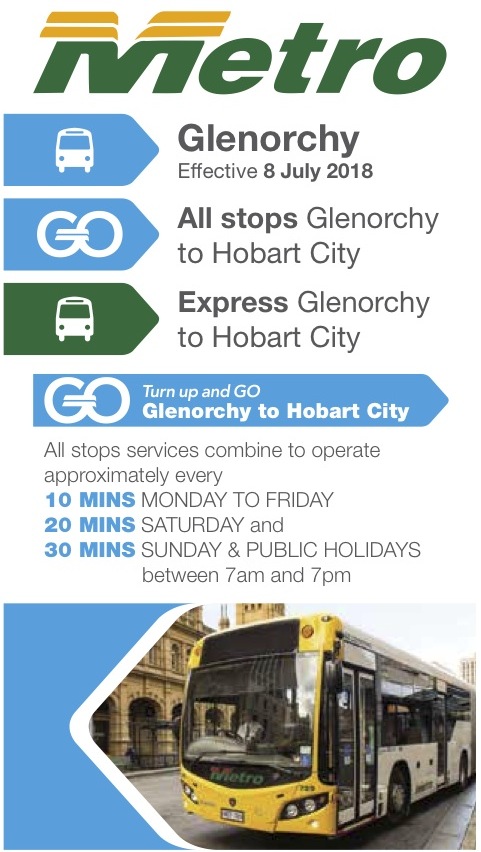 Services: Glenorchy, Moonah, New Town, North Hobart, Hobart
Turn-Up and Go routes combine to provide a high-frequency services:
♦ every 10 minutes Monday to Friday 7am–7pm;
♦ every 20 minutes Saturdays 7am–7pm;
♦ every 30 minutes Sundays and Public Holidays 7am–7pm
For full details of each route, see the individual timetable pages.
---
---
Weekdays

-
Wheelchair
Wheelchair


Route
Route
502
522
502
511
501
510
513
512
501
520
503
510
501
513
512
502
503
504
502
501
512
513
503
504
501
503
513
501
503
511
501
503
512
501
503
511
501
503
512
501
503
511
501
503
512
501
503
511
501
503
512
501
503
511
501
503
512
501
503
511
501
502
503
513
500
501
502
502
511
501
504
512
500
501
511
510
501
503
512
500
501
510
511
501
503
510
502
520
503
502
511
510
520
510
520
510
522
510
522
510
522
502

am
am
am
am
am
am
am
am
am
am
am
am
am
am
am
am
am
am
am
am
am
am
am
am
am
am
am
am
am
am
am
am
am
am
am
am
am
am
am
am
am
am
am
pm
pm
pm
pm
pm
pm
pm
pm
pm
pm
pm
pm
pm
pm
pm
pm
pm
pm
pm
pm
pm
pm
pm
pm
pm
pm
pm
pm
pm
pm
pm
pm
pm
pm
pm
pm
pm
pm
pm
pm
pm
pm
pm
pm
pm
pm
pm
pm
pm
pm
pm
pm
pm
pm
pm
pm
pm
pm
am

Glenorchy Interchange (Stop H)
Glenorchy Interchange (Stop H)
6:00
6:20
6:30
6:40
6:50
7:00
7:09
7:15
7:22
7:28
7:35
s.7:40
7:45
s.7:48
7:52
s.7:57
8:02
8:07
s.8:12
8:17
8:22
8:27
8:32
8:40
8:50
9:00
9:10
9:20
9:30
9:40
9:50
10:00
10:10
10:20
10:30
10:40
10:50
11:00
11:10
11:20
11:30
11:40
11:50
12:00
12:10
12:20
12:30
12:40
12:50
1:00
1:10
1:20
1:30
1:40
1:50
2:00
2:10
2:20
2:30
2:40
2:47
2:55
3:00
3:07
3:11
3:17
3:22
3:28
3:38
3:48
3:58
4:06
4:15
4:20
4:30
4:40
4:50
4:59
5:07
5:15
5:22
5:32
5:42
5:52
6:00
6:10
6:20
6:30
6:40
6:50
7:00
7:15
7:35
8:05
8:35
9:05
9:35
10:05
10:35
11:05
f.11:35
f.12:05

Metro Springfield (Stop B)
Metro Springfield (Stop B)
6:03
6:23
6:33
6:43
6:53
7:03
7:12
7:18
7:25
7:32
7:40
s.7:45
7:50
s.7:53
7:57
s.8:02
8:07
8:12
s.8:17
8:22
8:27
8:32
8:37
8:45
8:55
9:05
9:15
9:25
9:35
9:45
9:55
10:05
10:15
10:25
10:35
10:45
10:55
11:05
11:15
11:25
11:35
11:45
11:55
12:05
12:15
12:25
12:35
12:45
12:55
1:05
1:15
1:25
1:35
1:45
1:55
2:05
2:15
2:25
2:35
2:45
2:52
3:00
3:05
3:12
3:16
3:22
3:27
3:33
3:43
3:53
4:03
4:11
4:20
4:25
4:35
4:45
4:55
5:04
5:12
5:20
5:27
5:37
5:47
5:57
6:04
6:14
6:24
6:34
6:44
6:54
7:04
7:19
7:39
8:08
8:38
9:08
9:38
10:08
10:38
11:08
f.11:38
f.12:08

Moonah Shops (Main Rd)
Moonah Shops (Main Rd)
6:05
6:25
6:35
6:45
6:55
7:05
7:14
7:20
7:27
7:35
7:43
s.7:48
7:53
s.7:57
8:01
s.8:06
8:11
8:16
s.8:21
8:26
8:31
8:36
8:41
8:49
8:59
9:09
9:19
9:29
9:39
9:49
9:59
10:09
10:19
10:29
10:39
10:49
10:59
11:09
11:19
11:29
11:39
11:49
11:59
12:09
12:19
12:29
12:39
12:49
12:59
1:09
1:19
1:29
1:39
1:49
1:59
2:09
2:19
2:29
2:39
2:49
2:56
3:04
3:09
3:16
3:19
3:26
3:31
3:37
3:47
3:57
4:06
4:14
4:23
4:28
4:38
4:48
4:58
5:07
5:15
5:23
5:30
5:40
5:50
6:00
6:07
6:17
6:27
6:37
6:47
6:57
7:07
7:22
7:42
8:10
8:40
9:10
9:40
10:10
10:40
11:10
f.11:40
f.12:10

New Town Rd/Risdon Rd
New Town Rd/Risdon Rd
6:07
6:27
6:37
6:47
6:57
7:07
7:16
7:22
7:30
7:39
7:47
s.7:52
7:57
s.8:01
8:05
s.8:10
8:15
8:20
s.8:25
8:30
8:35
8:40
8:45
8:53
9:03
9:13
9:23
9:33
9:43
9:53
10:03
10:13
10:23
10:33
10:43
10:53
11:03
11:13
11:23
11:33
11:43
11:53
12:03
12:13
12:23
12:33
12:43
12:53
1:03
1:13
1:23
1:33
1:43
1:53
2:03
2:13
2:23
2:33
2:43
2:53
3:00
3:08
3:13
3:20
3:24
3:30
3:35
3:41
3:51
4:01
4:09
4:17
4:26
4:31
4:41
4:51
5:01
5:10
5:18
5:26
5:32
5:42
5:52
6:02
6:09
6:19
6:29
6:39
6:49
6:59
7:09
7:24
7:44
8:12
8:42
9:12
9:42
10:12
10:42
11:12
f.11:42
f.12:12

North Hobart Shops (Elizabeth St)
North Hobart Shops (Elizabeth St)
6:13
6:33
6:43
6:53
7:03
7:13
7:22
7:28
7:37
7:46
7:54
s.7:59
8:05
s.8:09
8:14
s.8:19
8:24
8:29
s.8:34
8:39
8:44
8:49
8:54
9:02
9:10
9:20
9:30
9:40
9:50
10:00
10:10
10:20
10:30
10:40
10:50
11:00
11:10
11:20
11:30
11:40
11:50
12:00
12:10
12:20
12:30
12:40
12:50
1:00
1:10
1:20
1:30
1:40
1:50
2:00
2:10
2:20
2:30
2:40
2:50
3:00
3:08
3:16
3:21
3:28
3:32
3:38
3:43
3:49
3:59
4:08
4:16
4:24
4:33
4:38
4:48
4:58
5:08
5:17
5:25
5:33
5:39
5:49
5:59
6:08
6:15
6:25
6:35
6:45
6:55
7:05
7:15
7:30
7:50
8:18
8:48
9:18
9:48
10:18
10:48
11:18
f.11:48
f.12:18

Hobart City Terminus (Collins St)
Hobart City Terminus (Collins St)
6:23
6:43
6:53
7:03
7:13
7:23
7:32
7:39
7:49
7:58
8:06
s.8:11
8:17
s.8:21
8:26
s.8:31
8:36
8:41
s.8:46
8:51
8:56
9:01
9:06
9:13
9:21
9:31
9:41
9:51
10:01
10:11
10:21
10:31
10:41
10:51
11:01
11:11
11:21
11:31
11:41
11:51
12:01
12:11
12:21
12:31
12:41
12:51
1:01
1:11
1:21
1:31
1:41
1:51
2:01
2:11
2:21
2:31
2:41
2:51
3:01
3:13
3:21
3:29
3:34
3:41
3:45
3:51
3:56
4:02
4:12
4:21
4:29
4:37
4:46
4:51
5:01
5:11
5:21
5:30
5:38
5:45
5:51
6:01
6:11
6:20
6:27
6:36
6:45
6:55
7:05
7:15
7:25
7:40
8:00
8:27
8:57
9:27
9:57
10:27
10:57
11:27
f.11:57
f.12:27

Service continues to:
Service continues to:
UNI
UNI
UNI
UNI
UNI
UNI
UNI
UNI
UNI
UNI
UNI
UNI
UNI
UNI
BLA
UNI
UNI
BLA
UNI
UNI
BLA
UNI
UNI
Saturdays

-
Wheelchair
Wheelchair


Route
Route
502
502
502
502
511
503
502
522
512
503
510
520
512
503
510
520
512
503
510
520
512
503
510
520
512
503
510
520
512
503
510
520
512
503
510
520
512
503
510
520
512
503
510
520
511
503
510
520
511
503
510
520
510
522
510
522
510
522
510
522
502

am
am
am
am
am
am
am
am
am
am
am
am
am
am
am
am
am
am
am
am
am
pm
pm
pm
pm
pm
pm
pm
pm
pm
pm
pm
pm
pm
pm
pm
pm
pm
pm
pm
pm
pm
pm
pm
pm
pm
pm
pm
pm
pm
pm
pm
pm
pm
pm
pm
pm
pm
pm
pm
am

Glenorchy Interchange (Stop H)
Glenorchy Interchange (Stop H)
6:12
6:42
7:02
7:22
7:42
8:02
8:17
8:32
8:47
9:02
9:17
9:32
9:47
10:02
10:17
10:32
10:47
11:02
11:17
11:32
11:47
12:02
12:17
12:32
12:47
1:02
1:17
1:32
1:47
2:02
2:17
2:32
2:47
3:02
3:17
3:32
3:47
4:02
4:17
4:32
4:47
5:02
5:17
5:32
5:47
6:02
6:17
6:32
6:47
7:02
7:17
7:32
8:00
8:30
9:00
9:30
10:00
10:30
11:00
11:30
12:00

Metro Springfield (Stop B)
Metro Springfield (Stop B)
6:15
6:45
7:05
7:25
7:45
8:05
8:20
8:35
8:50
9:07
9:22
9:37
9:52
10:07
10:22
10:37
10:52
11:07
11:22
11:37
11:52
12:07
12:22
12:37
12:52
1:07
1:22
1:37
1:52
2:07
2:22
2:37
2:52
3:07
3:22
3:37
3:52
4:07
4:22
4:37
4:52
5:07
5:22
5:37
5:52
6:05
6:20
6:35
6:50
7:05
7:20
7:35
8:04
8:34
9:04
9:34
10:04
10:34
11:04
11:34
12:04

Moonah Shops (Main Rd)
Moonah Shops (Main Rd)
6:18
6:48
7:08
7:28
7:48
8:08
8:23
8:38
8:53
9:10
9:25
9:40
9:55
10:10
10:25
10:40
10:55
11:10
11:25
11:40
11:55
12:10
12:25
12:40
12:55
1:10
1:25
1:40
1:55
2:10
2:25
2:40
2:55
3:10
3:25
3:40
3:55
4:10
4:25
4:40
4:55
5:10
5:25
5:40
5:55
6:08
6:23
6:38
6:53
7:08
7:23
7:38
8:06
8:36
9:06
9:36
10:06
10:36
11:06
11:36
12:06

New Town Rd/Risdon Rd
New Town Rd/Risdon Rd
6:20
6:50
7:10
7:30
7:51
8:11
8:26
8:41
8:56
9:13
9:28
9:43
9:58
10:13
10:28
10:43
10:58
11:13
11:28
11:43
11:58
12:13
12:28
12:43
12:58
1:13
1:28
1:43
1:58
2:13
2:28
2:43
2:58
3:13
3:28
3:43
3:58
4:13
4:28
4:43
4:58
5:13
5:28
5:43
5:58
6:11
6:26
6:41
6:56
7:11
7:26
7:41
8:08
8:38
9:08
9:38
10:08
10:38
11:08
11:38
12:08

North Hobart Shops (Elizabeth St)
North Hobart Shops (Elizabeth St)
6:26
6:56
7:16
7:36
7:58
8:18
8:33
8:48
9:03
9:20
9:35
9:50
10:05
10:20
10:35
10:50
11:05
11:20
11:35
11:50
12:05
12:20
12:35
12:50
1:05
1:20
1:35
1:50
2:05
2:20
2:35
2:50
3:05
3:20
3:35
3:50
4:05
4:20
4:35
4:50
5:05
5:20
5:35
5:50
6:05
6:18
6:33
6:48
7:03
7:18
7:33
7:48
8:13
8:43
9:13
9:43
10:13
10:43
11:13
11:43
12:13

Hobart City Terminus (Collins St)
Hobart City Terminus (Collins St)
6:35
7:05
7:25
7:45
8:08
8:28
8:43
8:58
9:13
9:31
9:46
10:01
10:16
10:31
10:46
11:01
11:16
11:31
11:46
12:01
12:16
12:31
12:46
1:01
1:16
1:31
1:46
2:01
2:16
2:31
2:46
3:01
3:16
3:31
3:46
4:01
4:16
4:31
4:46
5:01
5:16
5:31
5:46
6:01
6:16
6:28
6:43
6:58
7:13
7:28
7:43
7:58
8:22
8:52
9:22
9:52
10:22
10:52
11:22
11:52
12:22
Sundays & Public Holidays

-
Wheelchair
Wheelchair


Route
Route
502
502
502
502
510
522
511
522
510
522
511
522
510
522
511
522
510
522
511
522
510
522
511
522
510
522
502
502
502

am
am
am
am
am
am
am
am
am
am
pm
pm
pm
pm
pm
pm
pm
pm
pm
pm
pm
pm
pm
pm
pm
pm
pm
pm
pm

Glenorchy Interchange (Stop H)
Glenorchy Interchange (Stop H)
7:05
7:35
8:05
8:35
9:05
9:35
10:05
10:35
11:05
11:35
12:05
12:35
1:05
1:35
2:05
2:35
3:05
3:35
4:05
4:35
5:05
5:35
6:05
6:35
7:05
7:35
8:05
8:35
9:05

Metro Springfield (Stop B)
Metro Springfield (Stop B)
7:09
7:39
8:09
8:39
9:10
9:40
10:10
10:40
11:10
11:40
12:10
12:40
1:10
1:40
2:10
2:40
3:10
3:40
4:10
4:40
5:10
5:40
6:09
6:39
7:09
7:39
8:08
8:38
9:08

Moonah Shops (Main Rd)
Moonah Shops (Main Rd)
7:11
7:41
8:11
8:41
9:14
9:44
10:14
10:44
11:14
11:44
12:14
12:44
1:14
1:44
2:14
2:44
3:14
3:44
4:14
4:44
5:14
5:44
6:11
6:42
7:12
7:42
8:10
8:40
9:10

New Town Rd/Risdon Rd
New Town Rd/Risdon Rd
7:13
7:43
8:13
8:43
9:17
9:47
10:17
10:47
11:17
11:47
12:17
12:47
1:17
1:47
2:17
2:47
3:17
3:47
4:17
4:47
5:17
5:47
6:14
6:44
7:14
7:44
8:12
8:42
9:12

North Hobart Shops (Elizabeth St)
North Hobart Shops (Elizabeth St)
7:18
7:48
8:18
8:48
9:24
9:54
10:24
10:54
11:24
11:54
12:24
12:54
1:24
1:54
2:24
2:54
3:24
3:54
4:24
4:54
5:24
5:54
6:21
6:51
7:21
7:51
8:18
8:48
9:18

Hobart City Terminus (Collins St)
Hobart City Terminus (Collins St)
7:27
7:57
8:27
8:57
9:33
10:03
10:33
11:03
11:33
12:03
12:33
1:03
1:33
2:03
2:33
3:03
3:33
4:03
4:33
5:03
5:33
6:03
6:31
7:01
7:31
8:01
8:26
8:56
9:26
| | |
| --- | --- |
| | Wheelchair-accessible service |
| f. | Service operates on Friday nights only |
| s. | Service operates on school days only |
| BLA | Blackmans Bay via Southern Outlet |
| UNI | UTAS Sandy Bay Campus via Regent St |
Weekdays

-
Wheelchair
Wheelchair


Route
Route
511
502
520
511
502
511
503
501
500
502
500
501
504
511
500
501
500
503
501
511
503
501
512
503
501
511
503
501
512
503
501
511
503
501
512
503
501
511
503
501
512
503
501
511
503
501
512
503
501
511
503
501
513
504
503
510
502
501
520
512
513
510
501
510
503
510
501
512
503
501
504
503
504
501
512
513
501
510
513
501
510
502
501
510
502
520
510
522
510
522
510
522
510
522
511
522
502

am
am
am
am
am
am
am
am
am
am
am
am
am
am
am
am
am
am
am
am
am
am
am
am
am
am
am
am
am
am
am
am
am
am
am
am
pm
pm
pm
pm
pm
pm
pm
pm
pm
pm
pm
pm
pm
pm
pm
pm
pm
pm
pm
pm
pm
pm
pm
pm
pm
pm
pm
pm
pm
pm
pm
pm
pm
pm
pm
pm
pm
pm
pm
pm
pm
pm
pm
pm
pm
pm
pm
pm
pm
pm
pm
pm
pm
pm
pm
pm
pm
pm
pm
am
am

Hobart City Interchange (Stop E)
Hobart City Interchange (Stop E)
6:27
6:39
6:49
6:59
7:09
7:19
7:29
7:39
7:49
7:59
8:04
8:09
8:13
8:17
8:27
8:37
8:47
8:57
9:07
9:17
9:27
9:37
9:47
9:57
10:07
10:17
10:27
10:37
10:47
10:57
11:07
11:17
11:27
11:37
11:47
11:57
12:07
12:17
12:27
12:37
12:47
12:57
1:07
1:17
1:27
1:37
1:47
1:57
2:07
2:17
2:27
2:37
2:47
2:52
2:57
3:02
s.3:05
3:08
3:12
3:16
3:21
3:29
3:39
3:47
3:57
4:03
4:09
4:19
4:29
4:39
4:47
4:55
5:03
5:09
5:19
5:29
5:39
5:49
5:59
6:09
6:19
6:29
6:39
6:49
6:59
7:10
7:40
8:10
8:40
9:10
9:40
10:10
10:40
11:10
f.11:40
f.12:10
f.12:40

North Hobart Shops (Elizabeth St)
North Hobart Shops (Elizabeth St)
6:33
6:45
6:55
7:06
7:16
7:26
7:36
7:46
7:56
8:06
8:11
8:16
8:20
8:24
8:34
8:44
8:54
9:05
9:15
9:25
9:35
9:45
9:55
10:05
10:15
10:25
10:35
10:45
10:55
11:05
11:15
11:25
11:35
11:45
11:55
12:05
12:15
12:25
12:35
12:45
12:55
1:05
1:15
1:25
1:35
1:45
1:55
2:05
2:15
2:25
2:35
2:45
2:55
3:00
3:06
3:11
s.3:14
3:17
3:21
3:25
3:30
3:38
3:48
3:56
4:06
4:12
4:18
4:28
4:38
4:48
4:56
5:04
5:12
5:18
5:28
5:38
5:48
5:58
6:06
6:16
6:26
6:36
6:46
6:56
7:06
7:17
7:46
8:16
8:46
9:16
9:46
10:16
10:46
11:16
f.11:46
f.12:16
f.12:46

New Town Rd/Risdon Rd
New Town Rd/Risdon Rd
6:37
6:49
6:59
7:11
7:21
7:31
7:41
7:51
8:01
8:11
8:16
8:21
8:25
8:29
8:39
8:49
8:59
9:11
9:21
9:31
9:41
9:51
10:01
10:11
10:21
10:31
10:41
10:51
11:01
11:11
11:21
11:31
11:41
11:51
12:01
12:11
12:21
12:31
12:41
12:51
1:01
1:11
1:21
1:31
1:41
1:51
2:01
2:11
2:21
2:31
2:41
2:51
3:02
3:08
3:14
3:19
s.3:22
3:25
3:29
3:33
3:38
3:46
3:56
4:03
4:12
4:18
4:24
4:34
4:44
4:54
5:02
5:10
5:18
5:24
5:34
5:44
5:54
6:03
6:11
6:21
6:31
6:41
6:51
7:01
7:11
7:22
7:50
8:20
8:50
9:20
9:50
10:20
10:50
11:20
f.11:50
f.12:20
f.12:50

Moonah Shops (Main Rd)
Moonah Shops (Main Rd)
6:40
6:53
7:03
7:15
7:25
7:35
7:45
7:56
8:07
8:17
8:22
8:27
8:31
8:35
8:45
8:55
9:05
9:17
9:27
9:37
9:47
9:57
10:07
10:17
10:27
10:37
10:47
10:57
11:07
11:17
11:27
11:37
11:47
11:57
12:07
12:17
12:27
12:37
12:47
12:57
1:07
1:17
1:27
1:37
1:47
1:57
2:07
2:17
2:27
2:37
2:47
2:57
3:09
3:15
3:22
3:26
s.3:29
3:32
3:36
3:40
3:45
3:53
4:02
4:09
4:18
4:24
4:30
4:40
4:50
5:00
5:08
5:16
5:24
5:30
5:40
5:50
5:59
6:08
6:15
6:25
6:35
6:45
6:55
7:05
7:15
7:26
7:53
8:23
8:53
9:23
9:53
10:23
10:53
11:23
f.11:53
f.12:23
f.12:54

Metro Springfield (Main Rd)
Metro Springfield (Main Rd)
6:43
6:55
7:06
7:18
7:28
7:38
7:49
7:59
8:11
8:21
8:26
8:31
8:35
8:39
8:49
8:59
9:09
9:21
9:31
9:41
9:51
10:01
10:11
10:21
10:31
10:41
10:51
11:01
11:11
11:21
11:31
11:41
11:51
12:01
12:11
12:21
12:31
12:41
12:51
1:01
1:11
1:21
1:31
1:41
1:51
2:01
2:11
2:21
2:31
2:41
2:51
3:01
3:14
3:20
3:26
3:31
s.3:34
3:37
3:41
3:45
3:50
3:58
4:06
4:13
4:22
4:28
4:34
4:44
4:54
5:04
5:12
5:20
5:28
5:34
5:44
5:54
6:03
6:11
6:18
6:28
6:38
6:48
6:58
7:08
7:18
7:29
7:56
8:26
8:56
9:26
9:56
10:26
10:56
11:26
f.11:56
f.12:26
f.12:56

Glenorchy Interchange
Glenorchy Interchange
6:47
6:59
7:10
7:22
7:33
7:44
7:55
8:05
8:17
8:27
8:32
8:37
8:41
8:45
8:55
9:06
9:16
9:28
9:38
9:48
9:58
10:08
10:18
10:28
10:38
10:48
10:58
11:08
11:18
11:28
11:38
11:48
11:58
12:08
12:18
12:28
12:38
12:48
12:58
1:08
1:18
1:28
1:38
1:48
1:58
2:08
2:18
2:28
2:38
2:48
2:58
3:08
3:21
3:27
3:33
3:38
s.3:41
3:44
3:48
3:52
3:57
4:05
4:13
4:20
4:29
4:35
4:41
4:51
5:01
5:11
5:19
5:27
5:35
5:41
5:51
6:01
6:09
6:17
6:24
6:34
6:44
6:54
7:04
7:14
7:24
7:35
8:02
8:30
9:02
9:30
10:01
10:30
11:00
11:30
f.12:00
f.12:30
f.1:00

Service continues to:
Service continues to:
CLA
BRW
CLA
CLA
TOL
TOL
JAC
CLA
TOL
CLA
TOL
CLA
TOL
CLA
TOL
CLA
TOL
CLA
TOL
CLA
TOL
CLA
TOL
CLA
TOL
CLA
TOL
CLA
TOL
CLA
TOL
KAN
JAC
TOL
AUS
BRW
CLA
KAN
AUS
AUS
TOL
AUS
CLA
TOL
JAC
TOL
JAC
JAC
CLA
KAN
AUS
KAN
AUS
AUS
BRW
AUS
GAG
AUS
GAG
AUS
GAG
AUS
GAG
CLA
GAG
Saturdays

-
Wheelchair
Wheelchair


Route
Route
502
502
502
502
520
511
510
503
520
512
510
503
520
512
510
503
520
512
510
503
520
512
510
503
520
512
510
503
520
512
510
503
520
512
510
503
520
511
510
503
520
511
510
503
522
511
510
503
522
510
522
510
522
510
522
510
522
502
522
502

am
am
am
am
am
am
am
am
am
am
am
am
am
am
am
am
am
am
am
am
pm
pm
pm
pm
pm
pm
pm
pm
pm
pm
pm
pm
pm
pm
pm
pm
pm
pm
pm
pm
pm
pm
pm
pm
pm
pm
pm
pm
pm
pm
pm
pm
pm
pm
pm
pm
pm
pm
am
am

Hobart City Interchange (Stop E)
Hobart City Interchange (Stop E)
6:45
7:15
7:35
7:55
8:10
8:25
8:40
8:55
9:10
9:25
9:40
9:55
10:10
10:25
10:40
10:55
11:10
11:25
11:40
11:55
12:10
12:25
12:40
12:55
1:10
1:25
1:40
1:55
2:10
2:25
2:40
2:55
3:10
3:25
3:40
3:55
4:10
4:25
4:40
4:55
5:10
5:25
5:40
5:55
6:10
6:25
6:40
6:55
7:10
7:40
8:10
8:40
9:10
9:40
10:10
10:40
11:10
11:40
12:10
12:40

North Hobart Shops (Elizabeth St)
North Hobart Shops (Elizabeth St)
6:51
7:21
7:41
8:02
8:17
8:32
8:47
9:03
9:18
9:33
9:48
10:03
10:18
10:33
10:48
11:03
11:18
11:33
11:48
12:03
12:18
12:33
12:48
1:03
1:18
1:33
1:48
2:03
2:18
2:33
2:48
3:03
3:18
3:33
3:48
4:03
4:18
4:33
4:48
5:03
5:18
5:33
5:48
6:03
6:17
6:31
6:46
7:01
7:16
7:46
8:16
8:46
9:16
9:46
10:16
10:46
11:16
11:46
12:16
12:46

New Town Rd/Risdon Rd
New Town Rd/Risdon Rd
6:55
7:25
7:45
8:07
8:22
8:37
8:52
9:08
9:24
9:39
9:54
10:09
10:24
10:39
10:54
11:09
11:24
11:39
11:54
12:09
12:24
12:39
12:54
1:09
1:24
1:39
1:54
2:09
2:24
2:39
2:54
3:09
3:24
3:39
3:54
4:09
4:24
4:39
4:54
5:09
5:24
5:39
5:54
6:09
6:22
6:35
6:50
7:05
7:20
7:50
8:20
8:50
9:20
9:50
10:20
10:50
11:20
11:50
12:20
12:50

Moonah Shops (Main Rd)
Moonah Shops (Main Rd)
6:58
7:28
7:48
8:11
8:26
8:41
8:57
9:14
9:30
9:45
10:00
10:15
10:30
10:45
11:00
11:15
11:30
11:45
12:00
12:15
12:30
12:45
1:00
1:15
1:30
1:45
2:00
2:15
2:30
2:45
3:00
3:15
3:30
3:45
4:00
4:15
4:30
4:45
5:00
5:15
5:30
5:45
6:00
6:15
6:28
6:38
6:53
7:08
7:23
7:53
8:23
8:53
9:23
9:53
10:23
10:53
11:23
11:53
12:23
12:53

Metro Springfield (Main Rd)
Metro Springfield (Main Rd)
7:02
7:32
7:52
8:15
8:30
8:45
9:01
9:18
9:34
9:49
10:04
10:19
10:34
10:49
11:04
11:19
11:34
11:49
12:04
12:19
12:34
12:49
1:04
1:19
1:34
1:49
2:04
2:19
2:34
2:49
3:04
3:19
3:34
3:49
4:04
4:19
4:34
4:49
5:04
5:19
5:34
5:49
6:04
6:19
6:32
6:42
6:56
7:11
7:26
7:56
8:26
8:56
9:26
9:56
10:26
10:56
11:26
11:56
12:26
12:56

Glenorchy Interchange
Glenorchy Interchange
7:08
7:38
7:58
8:21
8:36
8:51
9:07
9:24
9:40
9:55
10:10
10:25
10:40
10:55
11:10
11:25
11:40
11:55
12:10
12:25
12:40
12:55
1:10
1:25
1:40
1:55
2:10
2:25
2:40
2:55
3:10
3:25
3:40
3:55
4:10
4:25
4:40
4:55
5:10
5:25
5:40
5:55
6:10
6:25
6:38
6:48
7:02
7:17
7:32
8:02
8:32
9:02
9:32
10:02
10:32
11:02
11:32
12:02
12:32
1:02

Service continues to:
Service continues to:
BRW
CLA
AUS
TOL
BRW
CLA
AUS
TOL
BRW
CLA
AUS
TOL
BRW
CLA
AUS
TOL
BRW
CLA
AUS
TOL
BRW
CLA
AUS
TOL
BRW
CLA
AUS
TOL
BRW
CLA
AUS
TOL
BRW
CLA
AUS
TOL
BRW
CLA
AUS
TOL
GAG
CLA
AUS
TOL
GAG
AUS
GAG
AUS
GAG
AUS
GAG
AUS
GAG
GAG
Sundays & Public Holidays

-
Wheelchair
Wheelchair


Route
Route
502
502
522
511
522
510
522
511
522
510
522
511
522
510
522
511
522
510
522
511
522
510
522
511
522
510
522
502
522
502

am
am
am
am
am
am
am
am
am
am
pm
pm
pm
pm
pm
pm
pm
pm
pm
pm
pm
pm
pm
pm
pm
pm
pm
pm
pm
pm

Hobart City Interchange (Stop E)
Hobart City Interchange (Stop E)
7:10
7:40
8:10
8:40
9:10
9:40
10:10
10:40
11:10
11:40
12:10
12:40
1:10
1:40
2:10
2:40
3:10
3:40
4:10
4:40
5:10
5:40
6:10
6:40
7:10
7:40
8:10
8:40
9:10
9:40

North Hobart Shops (Elizabeth St)
North Hobart Shops (Elizabeth St)
7:15
7:45
8:16
8:46
9:16
9:46
10:16
10:46
11:16
11:46
12:16
12:46
1:16
1:46
2:16
2:46
3:16
3:46
4:16
4:46
5:16
5:46
6:16
6:46
7:16
7:46
8:16
8:46
9:16
9:46

New Town Rd/Risdon Rd
New Town Rd/Risdon Rd
7:20
7:50
8:21
8:51
9:21
9:51
10:21
10:51
11:21
11:51
12:21
12:51
1:21
1:51
2:21
2:51
3:21
3:51
4:21
4:51
5:21
5:51
6:21
6:51
7:20
7:50
8:20
8:50
9:20
9:50

Moonah Shops (Main Rd)
Moonah Shops (Main Rd)
7:23
7:53
8:26
8:56
9:26
9:56
10:26
10:56
11:26
11:56
12:26
12:56
1:26
1:56
2:26
2:56
3:26
3:56
4:26
4:56
5:26
5:56
6:26
6:54
7:23
7:53
8:23
8:53
9:23
9:53

Metro Springfield (Main Rd)
Metro Springfield (Main Rd)
7:27
7:57
8:30
9:00
9:30
10:00
10:30
11:00
11:30
12:00
12:30
1:00
1:30
2:00
2:30
3:00
3:30
4:00
4:30
5:00
5:30
6:00
6:30
6:56
7:26
7:56
8:26
8:56
9:26
9:56

Glenorchy Interchange
Glenorchy Interchange
7:32
8:02
8:36
9:06
9:36
10:06
10:36
11:06
11:36
12:06
12:36
1:06
1:36
2:06
2:36
3:06
3:36
4:06
4:36
5:06
5:36
6:06
6:36
7:02
7:32
8:02
8:32
9:02
9:32
10:02

GAG
CLA
GAG
AUS
GAG
CLA
GAG
AUS
GAG
CLA
GAG
AUS
GAG
CLA
GAG
AUS
GAG
CLA
GAG
AUS
GAG
CLS
GAG
AUS
GAG
GAG
| | |
| --- | --- |
| | Wheelchair-accessible service |
| f. | Service operates on Friday nights only |
| s. | Service operates on school days only |
| AUS | Austins Ferry via Abbotsfield |
| BRW | Bridgewater via Claremont |
| CLA | Claremont via Chigwell |
| GAG | Gagebrook via Bridgewater |
| JAC | Jackson St |
| KAN | Kanella Ave (Chigwell) via Marys Hope Rd |
| TOL | Tolosa Park |