Over one third of Tasmanian school aged children travel to and from school on a bus. Everyone has an important role in making bus travel safe, and so Metro has joined with the Department of State Growth, the Tasmanian Bus Association and the Road Safety Advisory Council to develop the Smart Stop initiative.
---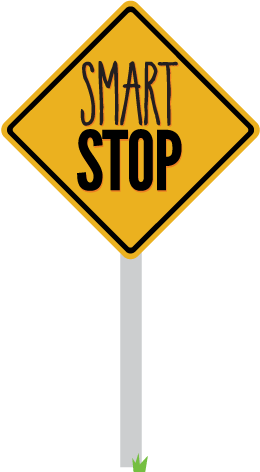 The Smart Stop initiative means working together to encourage children to:
STOP – LOOK – LISTEN – THINK
Stop back from the kerb
Look right, look left, then look right again.
Listen for vehicles approaching
Think where or not it is safe to cross.
---
Here are some more great road safety tips and advice:
Slow down when nearing school buses and bus stops – it's the law. A driver must not exceed 40 km/h within 50 metres of a bus displaying a school bus warning sign and/or warning light.
We encourage you to supervise and hold your child's hand when crossing the road or in car parks until your child reaches the age of 10.
Remind children when disembarking the school bus to wait until the bus has departed before crossing the road, and not to ever enter the danger zone, located directly in front or behind the bus.
Peer pressure from other children can put your child at risk, so make sure to tell your child not to be persuaded into unsafe behaviour around roads or vehicles.
Research has found that a child is unable to gauge the speed or direction of a vehicle until the age of 12.
---
For more information:

Head over to the Bus Safety Website to learn more about how to teach your child to be road smart.