Bus and bus shelter advertising
In order to provide a quality product, Metro outsources all of its bus advertising to Go Transit.
Bus advertising speaks to people in action mode. It is an invasive media where the consumption is unvoluntary, compared to 'voluntary consumed' media such as radio, television and press.
Some benefits of bus advertising:
Highest reach/lowest cost
It can't be switched off like other media
It reaches a wide audience
It grabs attention by standing out
It can be seen by many, over and over and over again
Provides a continuous presence 24 hours a day, 7 days a week
Creates impact and reaches a mass audience cost-effectively
Check out this video of some really creative bus wrap advertising concepts from around the world:
Bus advertising sizes
Kerb Side:
Faces the footpath, shopfronts and also the loading passengers and other transiting passengers.
Good for broad pedestrian exposure, public transport travellers, transit stations,  viewers from shops, offices and parks.
This is a highly commercial aspect utilised by "call to action" campaigns designed to market directly to people who are at street level ready to make purchasing decisions. Popular for fast food, Telco's, entertainment etc.
Driver Side:
Faces Traffic, particularly spectacular when turning through intersections.
Good For general transit exposure in light and heavy urban traffic and some pedestrian exposure too.
This is the "cleanest" side of the bus signage opportunity, unimpeded by doorways making it perfect for the medium – largest format signs that cut through . Site your headline above the traffic by using the high window line.
Full Back:
Faces parked traffic and slowly approaching traffic.
Good for those looking to improve branding recall or advertisers with a more complex message. The signage faces the parked viewer for extended periods of time (sometimes repeatedly) allowing time for the message to 'soak'.
This position is popular with all advertisers, however, it is the smallest and most obstructed  side of the bus with grills and legal signage.  Availability can be limited in small fleets.
Visual sample of bus advertising sizes
If you are interested in advertising on Metro buses, please contact Go Transit on 1300 468 726 or go to Gotransit.com.au
For all non-bus advertising and promotions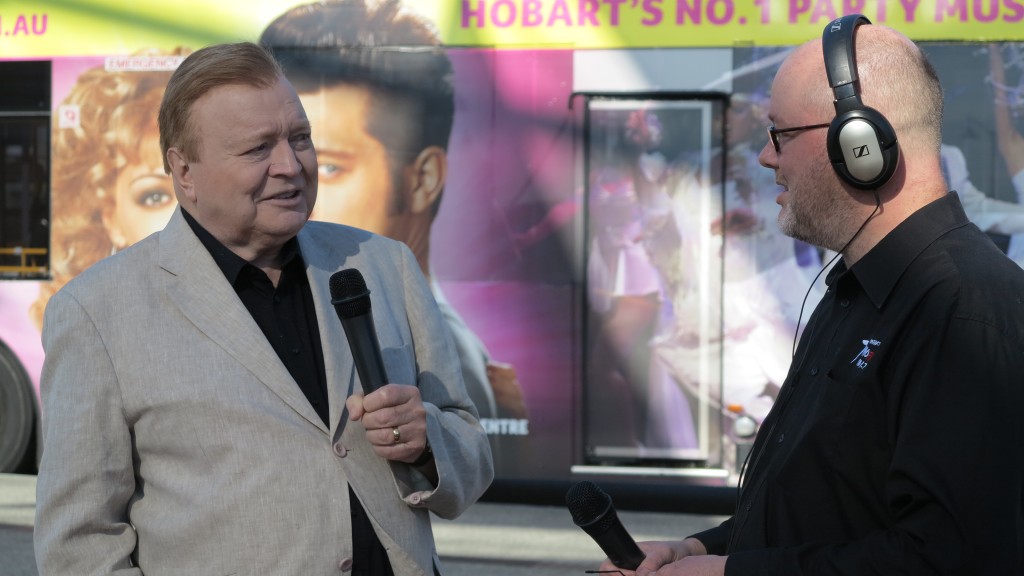 Metro has a variety of advertising and promotional activities it can assist in including advertising space inside Metro buses. We can also assist with public relations activities.
Recent PR activities have included:
SeaFM handing out free breakfasts to Metro passengers
Bert Newton hosting Hobart's media inside a Metro bus to promote Grease, the musical
Contact correspondence@metrotas.com.au for more information.