Metro Tasmania to drive Jack the Jumper into NBL23
Australia's favourite mascot Jack the Jumper will continue to travel to all corners of the State this season, with the support of Metro Tasmania.
Tasmania JackJumpers are proud to announce Metro Tasmania as the official partner of Jack the Jumper in the 2022/23 Hungry Jack's NBL season, to ensure he can continue to bring joy to the lives of people around Tasmania.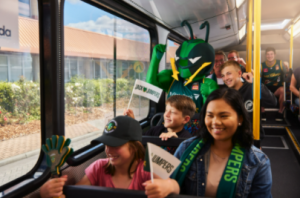 "Jack the Jumper has become one of the most popular figures in Tasmania! His visits to schools, community groups, basketball associations, shopping centres and charities throughout our inaugural year were so important in increasing our brand presence and we're delighted that Metro Tasmania will support him to keep up his great work this season," Chief Commercial & Customer Officer, Christine Finnegan said.
"We also know that he loves to bust a move so we're very excited to have Metro on board!".
Jack the Jumper engaged with more than 100,000 people across Tasmania over the past year and will continue to galvanise the State behind Tasmania's NBL team and increase junior basketball participation.
Metro Tasmania plays a very important role in the south, north and north-west of the state, acting Chief Executive Officer Tash Riddoch said.
"We are proud of the work we do to connect communities in Burnie, Launceston and Hobart" she said.
"We can't wait to partner with Jack the Jumper and visit as many schools and community organisations as we can to promote the values of teamwork and safety when travelling on one of our buses".
The one-year partnership will focus on ensuring Jack the Jumper can drive the club's community program and visit schools, clubs and groups all across Tasmania and fulfil the many requests for his presence at events.
Metro Tasmania will again provide free bus travel for thousands of fans to and from JackJumpers home games at MyState Bank Arena and the Launceston Silverdome.
"With a sold-out membership program and high anticipation for game night tickets, we are confident we will be playing in front of a full house each and every game, so it's great to have accessible transport for fans to get to and from the venues and alleviate traffic and parking stress" Finnegan said.
"We are looking forward to continuing to build on the great work we did with the JackJumpers in their inaugural season to get as many of the Ant Army to and from home games as possible and see them jump on board again to get to school, work and play Riddoch said.
Fans can follow the great work Jack does in the community by following him on Facebook @JackJumper.