COVID-19 Hobart lockdown update – all services operating as normal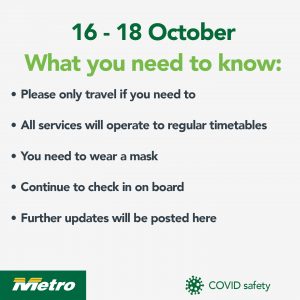 Following the announcement of a three day lockdown in Southern Tasmania from 18:00 15 October we wish to advise that our services will continue as normal to transport those who need it.
We wish to advise all passengers to:
Please only travel if you need to
All services will operate to regular timetables
You need to wear a mask
Continue to check in on board
Please stay at home unless you are:
– Shopping for urgent household supplies within 5 km of home — only one person from a household at any one time.
– Attending medical or health care appointments, including COVID-19 testing or vaccinations.
– A permitted worker, a person working for a provider or business that is permitted to operate, and who cannot work from home.
– Going to school — if the child of a permitted worker, or if unable to learn at home, or going to child care.
It is a requirement that you wear a mask, socially distance on board if possible and continue checking in with the Check In Tas app.
Thanks for doing your bit to keep everyone safe! Further updates will be posted here.