New Huntingfield Express Services
Huntingfield Park and Ride is here!
It is now quicke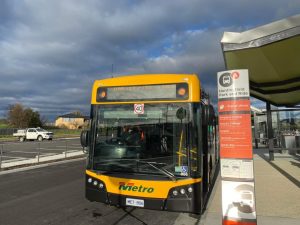 r and easier to commute between Kingborough and Hobart. New weekday Huntingfield express services depart the new park and ride facility every 30 mins during peak times. The route X01 travels direct to Hobart every 30 mins during peak times and the route X08 travels to Hobart via Kingston Central every 60 mins outside of peak times.
New Express Route timetables can be found here.
The Huntingfield Park and Ride has space for 174 vehicles, 26 bicycles, a quick drop off lane, upgraded shelters and an amenity building.
For more information about the new park and ride and the 65 new express services for Huntingfield, Blackmans Bay, Channel and Huonville every weekday, visit transport.tas.gov.au/public_transport or call 6166 3343.