Bus Services to JackJumpers Game – Feb 16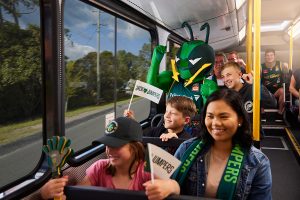 We thank you for your patience during this period of service disruptions. As we continue to do everything we can to prioritise our most frequented services, will not be providing the usual Metro charter buses to the Tasmania JackJumper's game on Thursday, 16 February.  This is to ensure that we direct all of our available resources to deliver our general access services during this peak travel time on Thursday evening.
We have worked with the Tasmania JackJumpers to ensure that alternate charter services will be available to Thursday's game through O'Driscolls Coaches. You can find details on these services via the Tasmania JackJumpers below:
Thank you for your continued patience and understanding.