Create a Greencard automatic top-up for ease and convenience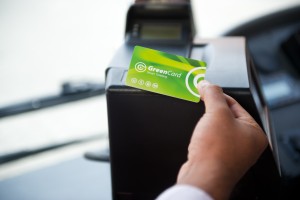 To make your Greencard use even more convenient, why not set up an automatic online top-up?

Once logged into My Greencard online,  you can set up automatic top-up when your credit falls below a specified amount. You can manage how you would like your automatic top-ups to work by setting the values of 'Minimum balance' and 'Top-up amount'.
When the balance on your Greencard falls below the 'Minimum balance', it will automatically be topped up by the 'Top-up amount'. Automatic top-ups may take up to 48 hours to be processed so to ensure you always have credit available for travel, set up a minimum balance equivalent to at least 48 hours travel.
For example, if your travel usually costs you $4.70 a day, you can set up an automatic top-up for when your Greencard credit reaches $9.40 so you still have two days worth of travel left while your new credit is processed.
Don't worry about carrying cash on the bus – set an online automatic top-up today and enjoy even more convenience with your Greencard.
To set up an automatic top-up and for more information, visit metrotas.com.au/fares/greencard/